| | |
| --- | --- |
| Common Criteria for PWPW application | --- |
| (16-06-2023) | |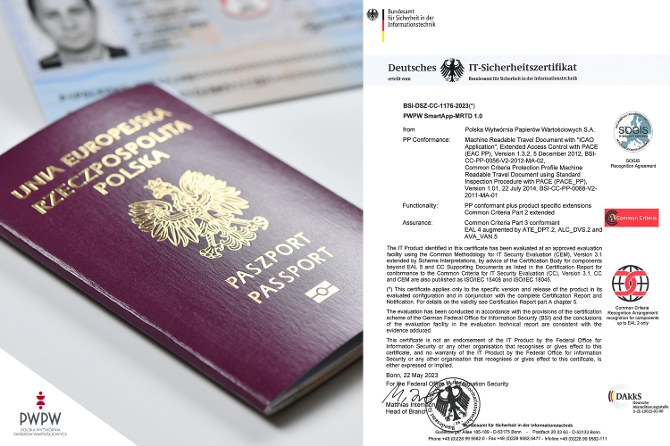 PWPW's new passport application has received Common Criteria certification and can be used for travel documents of all EU member states!
Common Criteria (ISO15408) is an international standard confirming the highest level of security of IT solutions and their professional production process. #itsecurity. The success was possible thanks to the enormous commitment of the employees of the Works (special thanks to Michał Wieczorek, Jakub Piwowarczyk, Krzysiek Piech, and Adam Adamczuk). The native #PWP SmartApp-MRTD application is a state-of-the-art solution that meets all the rigorous requirements of the standard.
The highest standard was confirmed by an accredited laboratory, which verified in detail the application's source code, all procedures in the production process, and all documentation for over a year from a security perspective.
The PWPW application was embedded in a state-of-the-art microprocessor from Infineon Technologies.
- The certificate received is not only a reward for a job well done, but also an opportunity for PWPW to clearly mark its presence in the market of travel documents with an electronic layer, said Tadeusz Wachowski, director of PWPW's document production division.
- Currently, there are not many entities in the market that create their own solutions for the electronic document layer, especially in the form of native applications. This puts PWPW in a very narrow and elite group,' emphasised Mariusz Kujawski, PWPW management board member overseeing the work of the technology divisions.